International Business Notes for Class 11 Business Studies
Read International Business Class 11 Notes and Questions. These Notes of International Business Class 11 are prepared by our expert teachers on the latest exam pattern of the CBSE Board Exam. It will help you to make your preparation better to score good marks in your English exam.
International Business Class 11 Notes PDF is great for preparing for the CBSE board examinations. CBSE English Syllabus is much bigger and requires concentrated efforts on the part of the student to face the examinations and pop out a success.
International Business Class 11 Notes PDF Consists of all of the concepts and important topics which help you in revision. Each explanation is provided with all the assumptions and good judgment used to determine the conclusion. This will allow the students to study and understand each concept even though they are preparing for the first time.
Please refer to International Business Notes for Class 11 Business Studies provided below. These revision notes have been prepared to help you understand and learn all important topics given in your NCERT Book for Class 11 Business Studies. We have provided Notes for Class 11 Business Studies for all chapters provided in your textbooks. These concepts, notes, and solved questions have been prepared for Standard 11 Business Studies by our expert teachers t help you gain more marks in exams and class tests.
Class 11 Business Studies Chapter 11 International Business Notes
Please carefully read the International Business Notes for Class 11 Business Studies provided below. Use them prior to your exams as this will help you to revise the entire chapter easily. We have also provided MCQ Questions for Class 11 Business Studies which will be asked in the upcoming exams.
International Trade– Concept and Benefits
Meaning
Manufacturing and trade beyond the boundaries of o- ne's own country is known as international business.
International or external business can, therefore, be d- efined as those business activities that take place acr- oss the national frontiers. It involves not only the inter- national movements of goods and services, but also of capital, personnel, technology and intellectual prope- rty like patents, trademarks, know-how and copyrights.
International trade comprises exports and impo- rts of merchandise (goods). It is also called 'visible trade' because goods are tangible. Items of visible trade include machinery, electronic goods, gold a- nd silver, chemicals, etc.
International Trade vs. Internal Trade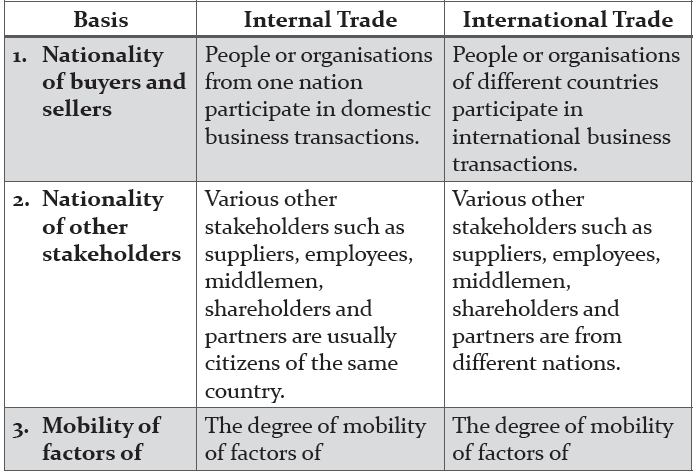 Benefits of International Trade
Benefits to Nations
1. Earning of foreign exchange: International bus- iness helps a country to earn foreign exchange wh- ich can be used for payment for imports of capital goods, technology, petroleum products, fertilisers, pharmaceutical products, etc.

2. More efficient use of resources: Every country
produces select goods and services which it can produce most effectively and efficiently. Gradually, it attains specialisation in the production of these goods and services, leading to efficient utilisation of resources.

3. Improving growth prospects and employment potentials: Producing solely for the purposes of domestic consumption severely restricts a count- ry's prospects for growth and employment. Many countries, especially the developing ones, could n- ot execute their plans to produce on a larger scale, and thus create employment for people because their domestic market was not large enough to absorb all that extra production. Later on a few countries such as Singapore, South Korea and Ch- ina which saw markets for their products in the fo- reign countries embarked upon the strategy 'exp- ort and flourish', and soon became the star perfo- rmers on the world map. This helped them not only in improving their growth prospects, but also created opportunities for employment of people living in these countries.
4. Increased standard of living: In the absence of international trade of goods and services, it would not have been possible for the world community to consume goods and services produced in other countries that the people in these countries are able to consume and enjoy a higher standard of living.

Benefits to Business Firms
1. Prospects for higher profits: International busi- ness can be more profitable than the domestic bu- siness. When the domestic prices are lower, busin- ess firms can earn more profits by selling their pr- oducts in the international markets where prices are high.

2. Increased capacity utilisation: By procuring ex- port orders, a firm can make use of its surplus pro- duction capacity. Production on large-scale leads to economies of scale which, in turn, lowers the cost of production.

3. Way out to intense competition in domestic market: Highly competitive domestic market dr- ives many companies to go international in search of markets for their products.

4. Prospects for growth: When demand of a firm's products starts getting saturated in the domestic market, the firm has to search overseas markets for improving its growth prospects.

5. Improved business vision: The growth of inter- national business of many companies (e.g., Pepsi, Samsung, Ford Motors, Hindustan Unilever Ltd., etc.) is essentially a part of their business policies to become more competitive and to diversify.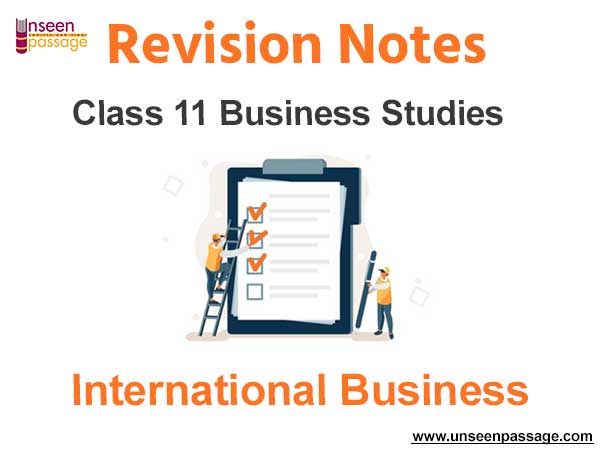 We hope you have gotten everything, except assuming you have any issue, you can ask us by writing a comment below with the goal that We can take care of your concerns. A few seconds ago you have perused the Notes of International Business class 11. Here we also gave you the international business class 11 MCQ with answers that is not difficult to learn and understand.
Assuming you need to find out with regards to some other study material, then, at that point, you can visit our study material sections.