Class 12 Chemistry Sample Paper
Please refer to Class 12 Chemistry Sample Paper with solutions provided below. All Class 12 Chemistry sample papers have been provided below based on the latest CBSE pattern and examination guidelines issued for the current academic year. Students must practice a lot of CBSE Sample Papers for Class 12 Chemistry as it will help them to clear all doubts. Practicing more guess papers for Standard 12 Chemistry will help them to get more marks.
CBSE Sample Paper for Class 12 Chemistry
Class 12 Chemistry Sample Paper Term 1 Set A
Section 'A'
1. The IUPAC name of isobutyl alcohol is :
(A) 1-methyl propanol
(B) 2-methylpropan-1-ol
(C) ethane 1,2-diol
(D) butan-1-ol
2. Formation of ortho hydroxy benzoic acid from phenol using sodium hydroxide is :
(A) Kolbe's reaction
(B) Reimer Tiemann reaction
(C) Esterification
(D) Williamson synthesis
3. Glucose and fructose are prepared in equal amount when :
(A) sucrose is boiled with dil. HCl in alcoholic solution
(B) hydrolysis of starch by boiling it with dil.H2SO4 at 393K under pressure
(C) Either of the two
(D) none of the above
4. Which is true for crystalline solids :
(A) They are isotropic in nature.
(B) They start melting over a range of temperature.
(C) They have sharp melting point.
(D) The overall arrangement of particles is equivalent in all directions.
5. All the elements of group 15 form EX3 and EX5 except :
(A) Nitrogen
(B) Phosphorus
(C) Arsenic
(D) Bismuth
6. When constituent particles are present only on the corner positions of a unit cell :
(A) Body centred unit cell
(B) Face centred unit cell
(C) End centred unit cell
(D) Primitive unit cell
7. Chloroform mixed with nitrogen gas is a type of which solution :
(A) Gas + gas
(B) Solid + gas
(C) Liquid + gas
(D) Solid + liquid
8. What is incorrect about fibrous proteins :
(A) The polypeptide chains run parallel
(B) they are generally insoluble in water
(C) Structure and shape of proteins can be studied at four different levels.
(D) They are held together by hydrogen and disulphide bonds.
9. Name the following structures of proteins :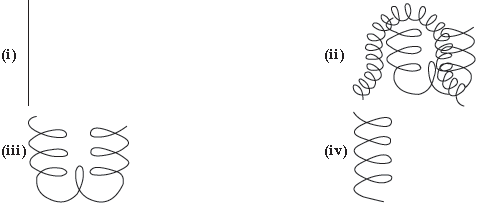 (A) Primary, secondary, tertiary, quaternary
(B) Quaternary, primary, secondary, tertiary
(C) Primary, quaternary, tertiary, secondary
(D) Secondary, quaternary, tertiary, primary
10. Which of the following is not a haloalkane ?
(A) 2-bromo pentane
(B) ethylene dichloride
(C) 2-iodo 2-methyl propane
(D) 2-chloro acetophenone
11. In solid alkali halides, the appearance of colour is due to :
(A) Schottky defect
(B) F- centre
(C) C- centre
(D) Frenkel defect
12. Supersonic jet aeroplanes are responsible for depleting the conc. of ozone layer because :
(A) they emit nitrogen oxides.
(B) nitrogen oxides readily combine with ozone.
(C) none of the above
(D) both (A) and (B)
13. Which of the following does not react with oxygen directly ?
(A) Zn
(B) Ti
(C) Pt
(D) Fe
14. In ______the domains are oppositely oriented and cancel out each other's magnetic moment :
(A) CrO2
(B) MnO
(C) Fe3O4
(D) NaCl
15. Which of the following is not a chiral compound :
(A) 2-chlorobutane
(B) 2,3-dihydroxypropanal
(C) propan-2-ol
(D) butan-2-ol
16. For any solution the partial vapour pressure of each volatile component in the solution is directly proportional to its_______________.
(A) solvent molecules
(B) mole fraction
(C) solute molecules
(D) non volatile component.
17. The value of van't Hoff factors for K2SO4, NaCl and KCl is :
(A) 2,2,2
(B) 3,2,2
(C) 2,2,3
(D) 3,3,2
18. Many wet gases are dried by passing through sulphuric acid, this shows sulphuric acid is :
(A) a strong oxidising agent
(B) a strong reducing agent
(C) a strong dehydrating agent
(D) a strong dehydrogenation agent
19. Choose the molecules in which carbon atom marked with asterisk (*) is asymmetric ?
(A) (i),(ii),(iii)
(B) (ii),(iii),(iv)
(C) (i),(iii),(iv)
(D) (ii),(iii),(v)
20. Calculate the number of atoms per unit cell of iron crystal lattice if the edge length is 268 pm and density is 7. 86 g / cm3:
[Molar mass of Fe = 56 g / mol].
(A) 1
(B) 2
(C) 4
(D) 0
21. How much amount of NaCl in gram will be required for the preparation of its 5,6 w/v 1000 ml aqueous solution ?
(A) 20 g
(B) 30 g
(C) 40 g
(D) 50 g
22. Fuming nitric acid is a mixture of :
(A) H2SO4 + HNO3
(B) HNO3 + SO2
(C) HNO3 + NO2
(D) HNO3 + H2
23. The presence of halogen atom in the haloarenes directs the incoming substituent in electrophiles substitution reactions to :
(A) ortho position
(B) meta position
(C) para position
(D) ortho and para position
24. Give the major product in the following reaction :
C2H5Br + alc. AgCN → Product
(A) C2H5CN
(B) C2H5NC
(C) C2H4
(D) C2H5COOH
25. Glucose is converted into ethanol in the persence of :
(A) Invertase
(B) Urease
(C) Zymase
(D) Maltase
Section 'B'
26. Ethanol is treated with sulphuric acid at 443K :
(A) ethene
(B) ethoxy ethane
(C) ethanoic acid
(D) ethylene
27. Alkyl halides are immiscible in water though they are polar because :
(A) they react with water give alcohol.
(B) they cannot form hydrogen bonds with water.
(C) C-X bond cannot be broken easily.
(D) they are stable compounds and are not reactive.
28. Choose the correct 2nd step taking place after the reaction shown below :
CH3 – CH2 – O – H + H → + CH3 – CH2 – O – H
29. In dehydration of alcohols, name the product formed if instead of primary alcohol , tertiary alcohol is used ?
(A) ether
(B) alkene
(C) no change in product
(D) either alkene or ether.
30. Bimolecular dehydration does not involve :
(A) Preparation of diethyl ether from dehydrating action of conc. H2SO4 on ethanol.
(B) Sulphuric acid grabs a mole of water
(C) This method works only for symmetrical ethers.
(D) Preparation of ethyl methyl ether using conc.H2SO4.
31. Write the IUPAC name of the following compound :
(A) 2-methyl, 2-phenyl ethanol
(B) 2-phenyl butanol
(C) 2-Phenylopropan-2-ol
(D) 1-methyl, 1-phenyl ethanol
32. Protein loses its biological activity on heating due to :
(A) decrease in entropy
(B) disturbances in hydrogen bonding
(C) folding
(D) Van der weaal's interactions
33. It is necessary to use a silent electrical discharge in the preparation of ozone from oxygen to prevent its decomposition because the process is :
(A) exothermic
(B) endothermic
(C) reversible
(D) irreversible
34. Electrophilic substitution reactions in haloarenes occur slowly due to:
(A) alumatic nature of haloarenes
(B) +I effect of halogen atom
(C) resonance
(D) -I effect of halogen atom
(A) Simple cubic unit cell
(B) Body centred cubic unit cell
(C) Face centred cubic unit cell
(D) End centred cubic unit cell
36. Which of the following is not a colligative property ?
(A) Osmotic pressure
(B) Vapour pressure
(C) Elevation of boiling point
(D) Depression of freezing point
37. Which one of the following in monoatomic ?
(A) Fluorine
(B) Nitrogen
(C) Argon
(D) Hydrogen
38. Anti-Markownikoff addition of HBr is not shown in :
(A) 2-Butene
(B) 1-Hexene
(C) Propene
(D) 1-Butene
39. The IUPAC name of
(A) 3-chloro -2- methyl butane
(B) 2-chloro pentane
(C) 2-chloro -3 methyl butane
(D) 2-chloro -3 methyl butane
40. A primary alcohol undergoes dehydrogenation to give a/an :
(A) alkene
(B) aldehyde
(C) Ketone
(D) carboxylic acid
41. A nucleotide consist of :
(A) sugar molecule and phosphoric acid
(B) sugar molecule and nitrogenous base
(C) nitrogenous base and phosphoric acid
(D) sugar molecule, phosphoric acid and nitrogenous base
42. Zwitter ion is represented as :
43. Which of the following reasons is not responsible for abnormal behaviour of fluorine ?
(A) small size
(B) high electronegativity
(C) Non-availability of d-orbitals in valence shell
(D) high ionization enthalpy of F-F bond
44. In the following sequence of reaction
The product 'B' in the reaction is –
(A) Phenol
(B) Ethyl alcohol
(C) Benzyl alcohol
(D) 2-phenyl ethanol
From Q. 45 to Q. 49, Given below are two statements labelled as Assertion (A) and Reason (R) and at the end of each question give the following line select the most appropriate answers from the options given below:
(A) Both A and R are true and R is the correct explanation of A.
(B) Both A and R are true but R is NOT the correct explanation of A.
(C) A is true but R is false.
(D) A is false and R is true.
45. Assertion (A) : All ionic compounds show Frenkel and Schottky defects.
Reason (R) : Vacancy and interstitial defects can also be shown by ionic compounds.
46. Assertion (A) : Alkali halides like NaCl show non-stoichiometric defects.
Reason (R) : When some of the lattice sites are vacant, the crystal is said to have vacancy defect.
47. Assertion (A) : It is not possible to separate the components of azeotropes by fractional distillation.
Reason (R) : The solutions which show a large positive deviation from Raoult's law form minimum boiling azeotrope at a specific composition.
48. Assertion (A) : Two strands of DNA are complementary to each other.
Reason (R) : In DNA, between specific pairs of bases there are sulphide bonds.
49. Assertion (A) : Elements of group 16 generally show lower value of first ionisation enthalpy as compared to the group 15 elements.
Reason (R) : Larger amount of energy is required to remove electrons from group 16.
Section 'C'
50. Match the following :

Which of the following is the best matched options ?
(A) i-D, ii-B, iii-C, iv-A
(B) i-A, ii-C, iii-B, iv-D
(C) i-B, ii- D, iii-A, v-C
(D) i-D, iii-D, iv-A, iv-C
51. Which of the following analogies is correct :
(A) Group 16 : Chalcogens : Group 17 : Halogens
(B) Oxygen : 1s2, 2s2 2p4 : Fluorine : 1s2, 2s2 2p6
(C) Galena : PbS : Gypsum : CaSO4 ½H2O
(D) NH3 : sp3 : SF6 : sp3d
52. Complete the following analogy :
Iodoform test : A :: Lucas : B
CASE 1 : Read the passage given below and answer the following questions 53-55
Alcohols are versatile compounds. They act both as nucleophiles and electrophiles. The bond between O-H is broken when alcohols act as nucleophiles.
Based on the cleavage of O-H and C-O bonds, the reaction of alcohols and phenols may be divided into two groups :
(a) Reactions involving cleavage of O-H bond
(b) Reactions involving cleavage of C-O bond
Acidity of alcohols and phenols
(i) Reaction with metals :Alcohols and phenols react with active metals such as sodium, potassium and aluminium to yield corresponding alkoxide/phenoxides and hydrogen.
2 R-O-H + 2 Na → 2R-O-Na + H2
Sodium Alkoxide
53. Write down the decreasing order of reactivity of sodium metal towards primary, secondary and tertiary alcohols :
(A) 1oalc<2oalc<3oalc
(B) 1oalc>2oalc>3oalc
(C) 3oalc<1oalc<2oalc
(D) 3oalc>1oalc < 2oalco
54. Name the following reaction :
(A) Williamson's synthesis
(B) Kolbe's reaction
(C) Reimer-Tiemann reaction
(D) Sandmeyer's reaction
55. Given the descending order of acid strength of alcohols :
(A) RCH2OH > RR'CHOH >> RR'R"COH
(B) RCH2OH > RR'R"COH > RR'CHOH
(C) RCH2OH < RR'CHOH << RR'R"COH
(D) RCH2OH < RR'R"COH < RR'CHOH