Morphology of Flowering Plants MCQ Class 11 Biology
Please refer to Chapter 5 Morphology of Flowering Plants MCQ Class 11 Biology with answers below. These multiple-choice questions have been prepared based on the latest NCERT book for Class 11 Biology. Students should refer to MCQ Questions for Class 11 Biology with Answers to score more marks in Grade 11 Biology exams. Students should read the chapter Morphology of Flowering Plants and then attempt the following objective questions.
MCQ Questions Class 11 Biology Chapter 5 Morphology of Flowering Plants
The Morphology of Flowering Plants MCQ Class 11 Biology provided below covers all important topics given in this chapter. These MCQs will help you to properly prepare for exams.
Question. The gynoecium is multicarpellary apocarpous' implies that the
(a) Gynoecium comprises only one pistil which is fused with the stamen
(b) Gynoecium comprises more than one carpel, all of which are free
(c) Gynoecium comprises only one carpel which is free
(d) Gynoecium comprises more than one carpel which are fused
Question. The aestivation that may be seen in the sepals of members of family fabaceae is-
(a) Vexillary
(b) Valvate/Imbricate
(c) Twisted
(d) All of these
Question. Hypogynous flower and diadelphous condition of stamens is found in the members of family
(a) Papilionaceae
(b) Caesalpinoidae
(c) Mimosoidae
(d) Solanaceae
Question. Which of the following types of roots are correctly matched with their examples?
I. Negativelygeotropic roots : Rhizophora
II. Absence of rootcap : Lemna
III. Velamen containing roots : Vanda
IV. Moniliform roots : Portulaca
(a) I and II
(b) III and IV
(c) I, II and IV
(d) I, II, III, and IV
Question. In the given diagrams labelled structures A and B are modifications of the stem. Then, probable examples of plants in which A and B can be observed, respectively, will be:
(a) Opuntia, Watermelons
(b) Gourds, Colocasia
(c) Citrus, Euphorbia
(d) Bougainvillea, Grapevines
Question. Roots of Sweet potato shows homology to
(a) Potato
(b) Colocasia
(c) Ginger
(d) Maize
Question. Which of these properties are seen in Hibiscus rosasinesis?
i. Leaves with opposite phyllotaxy
ii. Multicarpellary syncarpous gynoecium and inferior ovary
iii. Twisted aestivation in petals
iv. Axile placentation of ovules in ovary
(a) i and ii
(b) ii and iv
(c) iii and iv
(d) i and iii
Question. Sweet potato and potato are an example of modified root and stem, respectively. Both these plants are classified in order
(a) Polymoniales
(b) Sapindales
(c) Poales
(d) Asparagales
Question. Given figure is transverse section of ovary. It shows
(a) Swollen placenta
(b) Bilocular ovary
(c) Bicarpellary gynoecium
(d) All of these
Question. Read the following characteristics (I-V) and identify the structure to which these features correspond.
I. Cortex is made up of several layers of thin-walled parenchyma cells with intercellular spaces.
II. Endodermis is made up of a single layer of barrel–shaped cells without any intercellular spaces.
III. Few layers of thick-walled parenchymatous cells to form pericycle.
IV. Pith is small or inconspicuous.
V. Conjunctive tissue is present and 2 to 4 xylem and phloem patches.
(a) Dicot root
(b) Dicot stem
(c) Monocot root
(d) Monocot stem
Question. These floral characters are related to specific family. Identify the plant which shows the following characters.
1. Flower – bisexual, zygomorphic
2. Corolla – vexillary aestivation in petals
3. Androecium – diadelphous stamens
4. Gynoecium – ovary superior
5. Seed – Non-endospermic
(a) Petunia
(b) Colchicum
(c) Indigofera
(d) Belladonna
Question. An apocarpous gynoecium is that in which all carpels are free. It is found in-
(a) Tomato
(b) Lotus
(c) Mustard
(d) Both 1 and 3
Question. Select the number of plants having epipetalous stamens.
Moong, Sesbania, Lupin, Tomato, Muliathi,
Soyabean, Petunia, Gram, Arhar, Tobacco,
Tulip, Aloe, Colchicum, Asparagus, Chilli, Sunnhemp.
(a) 3
(b) 6
(c) 5
(d) 4
Question. Plants, which produce characteristic pneumatophores & show vivipary belong to
(a) Mesophytes
(b) Halophytes
(c) Psammophytes
(d) Hydrophytes
Question. In grass and banyan tree these are roots arising from parts of the plant other than the radicle, these are called
(a) Adventitious roots
(b) Fibrous root system
(c) Tap root system
(d) Tertiary root system
Question. Stems modified into flat green organs performing the functions of leaves are known as
(a) Phyllodes
(b) Phylloclades
(c) Scales
(d) Cladodes
Question. sterile stamen is called
(a) Staminode
(b) Stigma
(c) Apocarpous
(d) Syncarpous
Question. Placenta & pericarp are both edible portions in
(a) Apple
(b) Banana
(c) Tomato
(d) Potato
Question. Which one of the following is a true fruit?
(a) Coconut
(b) None of these
(c) Cashew nut
(d) Apple
Question. An aggregate fruit is one which develops from
(a) Multicarpellary syncarpous gynoecium
(b) Multicarpellary apocarpus gynoecium
(c) Complete inflorescence
(d) Multicarpellary superior ovary
Question. Mesocarp and endocarp is the edible part of the fruit of
(a) Apple
(b) Mango
(c) Banana
(d) Litchi
Question. In China rose the flowers are
(a) Actinomorphic, hypogynous with twisted aestivation
(b) Actinomorphic, epigynous with valvate aestivation
(c) Zygomorphic, hypogynous with imbricate aestivation
(d) Zygomorphic, epigynous with twisted aestivation
Question. What do you eat in coconut?
(a) Mesocarp
(b) Fruit wall
(c) Entire seed
(d) Embryo
Question. Floating roots are characteristic of
(a) Tinospora
(b) Jussiaea
(c) Viscum
(d) Vanda
Question. The gynoecium consists of many free pistils in flowers of
(a) Aloe
(b) Tomato
(c) Papaver
(d) Michelia
Question. The coconut water & the edible part of coconut are equivalent to
(a) Endosperm
(b) Endocarp
(c) Mesocarp
(d) Embryo
Question. Vegetative propagation in mint occurs by
(a) Runner
(b) Offset
(c) Rhizome
(d) Sucker
Question. In a cereal grain the single cotyledon of embryo is represented by
(a) scutellum
(b) coleoptile
(c) prophyll
(d) coleorrhiz
Question. Epipetalous is condition of
(a) Aestivation of petal
(b) Placentation
(c) Stamens
(d) Position of ovary
Question. An example of a seed with endosperm, perisperm & caruncle is
(a) Cotton
(b) Coffee
(c) Lily
(d) Castor
Question. In a cereal grain the single cotyledon of embryo is represented by
(a) Scutellum
(b) Prophyll
(c) Coleoptile
(d) Coleorhiza
Question. The place on stem or branch form where one or more leaves arise is called
(a) Apex
(b) Bud
(c) Internode
(d) Node
Question. Perisperm is
(a) part of endosperm
(b) remnant of embryo
(c) persistant nucellus
(d) remnant of endosperm
Question. What type of placentation is seen in sweet pea?
(a) Axile
(b) Free central
(c) Marginal
(d) Basal
Question. Edible part in mango is
(a) Mesocarp
(b) Epicarp
(b) Endocarp
(b) Epidermis
Question. Which is correct pair for edible part?
(a) Tomato – Thalamus
(b) Maize – Cotyledons
(c) Guava – Mesocarp
(d) Date palm – Pericarp
Question. Match the following & indicate which is correct?
(a) Cucurbitaceae – Orange
(b) Malvaceae – Cotton
(d) Brassicaceae – Wheat
(d) Leguminosae – Sunflower
Question. Phyllode is a modification of
(a) Root
(b) Flower
(c) Petiole
(d) Bud
Question. Which one of the following underground, fleshy structure is a stem?
(a) Carrot
(b) Potato
(c) Turnip
(d) Sweet Potato
Question. Which one of the following is not a characteristic of root?
(a) Absence of buds
(b) Presence of chlorophyll
(c) Presence of root cap
(d) Presence of Unicellular hair
Question. Flowers are zygomorphic in
(a) Gulmohur
(b) Tomato
(c) Datura
(d) Mustard
Question. In unilocular ovary with a single ovule, the placentation is
(a) Marginal
(b) Basal
(c) Free central
(d) Axile
Question. Potato tubers are formed at the tips of
(a) Primary roots
(b) Adventitious roots
(c) Petiole
(d) Stolons
Question. The positions of shoot apex in monocot embryo is
(a) Lateral
(b) Basal
(c) Sub-terminal
(d) Terminal
Question. How many plants among Indigofera, Sesbania, Salvia, Allium, Aloe, mustard, groundnut, radish, gram & turnip have stamens with different lengths in their flowers?
(a) Three
(b) Four
(c) Five
(d) Six
Question. Flowers are unisexual in
(a) Pea
(b) Cucumber
(c) China rose
(d) Onion
Question. In maize, the flower are
(a) Bisexual
(b) Unisexual but on the same plant
(c) Absent
(d) Unisexual but on different plants
Question. The embryo consists of one large and shield shaped cotyledon known as …………. and a short axis with a …………… and a radicle
Question. ………….. is the pattern of arrangement of leaves on the stem or branch.
Question. If gynoecium is situated in the centre and other parts of the flower are located on the rim of the thalamus almost at the same level, it is called ……………
Question. Fabaceae family was earlier called ……………, a sub family of family …………….
Answer

Papilonoideae, Leguminosae
Question. The main function of the stem is spreading out branches bearing leaves, flowers and fruits. It conducts water, minerals and photosynthates.
Question. A flower is asymmetric or irregular, if it cannot be divided into similar halves by any vertical plane passing through the centre as in canna.
Question. The lamina or the leaf blade is the green expanded part of the leaf with veins and veinlets.
Question. The knowledge of external morpholgy of flowering plants is not essential for the study of all branches of botany.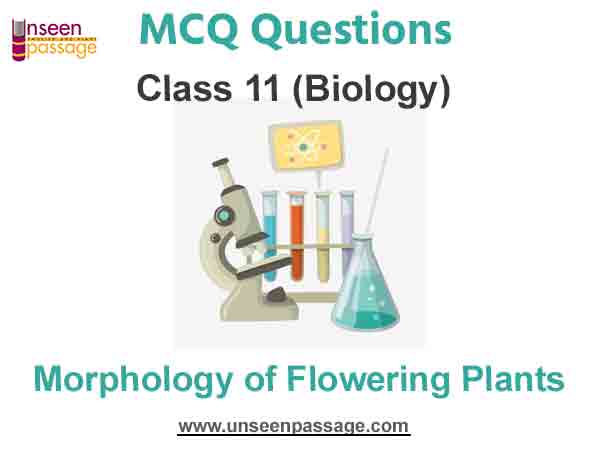 We hope you liked the above Morphology of Flowering Plants MCQ Class 11 Biology. In case you have any questions please put them in the comments box below and our teachers will provide you a response.