Plant Growth and Development MCQ Class 11 Biology
Please refer to Chapter 15 Plant Growth and Development MCQ Class 11 Biology with answers below. These multiple-choice questions have been prepared based on the latest NCERT book for Class 11 Biology. Students should refer to MCQ Questions for Class 11 Biology with Answers to score more marks in Grade 11 Biology exams. Students should read the chapter Plant Growth and Development and then attempt the following objective questions.
MCQ Questions Class 11 Biology Chapter 15 Plant Growth and Development
The Plant Growth and Development MCQ Class 11 Biology provided below covers all important topics given in this chapter. These MCQs will help you to properly prepare for exams.
Question. The element which helps in oxygen evolution in the process of photosynthesis is-
(a) Zn and Mn
(b) Mo and CI
(c) B and Mg
(d) Cl and Mn
Question. Which one of the following would occur during bolting?
(a) Uptake of water
(b) Elongation of internodes
(c) Uptake of mineral salts
(d) Extension of lamina
Question. Active transport of ions by a cell requires-
(a) High temperature 
(b) ATP
(c) Alkaline pH 
(d) Salts
Question. Which one of the following is the first step of glycolysis?
(a) Breakdown of glucose
(b) Phosphorylation of glucose
(c) Conversion of glucose into fructose.
(d) Dehydrogenation of glucose
Question. The adsorption of water by hydrophilic compounds like cellulose and pectin in root hair cell wall is called-
(a) Diffusion 
(b) Imbibition
(c) Guttation 
(d) Osmosis
Question. Chlorophyll is-
(a) Soluble in organic solvents
(b) Soluble in water
(c) Soluble in both organic solvents and water
(d) Soluble in inorganic solvents only
Question. In an organism, enzymes generally have
(a) Same pH and temperature optima
(b) Same pH but different temperature optima
(c) Different pH but same temperature optima
(d) Different pH and different temperature optima
Question. How many additional ATP is used during the synthesis of two molecules of hexose in maize than a tomato ?
(a) 12 
(b) 36
(c) 8 
(d) 24
Question. Which of the following statements about cyclic photophosphorylation is not correct?
(a) It does not involve NADPH formation.
(b) Only PS I is involved.
(c) It involves substrate- level phosphorylation.
(d) It does not generate oxygen.
Question. Consider the following statements:
(A) The portion of the spectrum between 500nm and 800 nm is also referred to as photosynthetically active radiation (PAR).
(B) Magnesium, calcium and chloride ions play prominent roles in photolysis of water.
(C) In cyclic photophosphorylation, oxygen is not released (as there is no photolysis of water) and NADPH is also not produced.
Of these statements given above, choose the correct option from the following.
(a) A is true but B and C are false
(b) A and B are false but C is true
(c) B is true but A and C are false
(d) A and B are true but C is false
Question. A reduction in the quantity of oxygen yield during photosynthesis may be observed at :-
(a) Light having wavelength only more than 680 nm
(b) Light having wavelength less than 680 nm
(c) Light having wavelength 460 nm
(d) Light having wavelength less than 360 nm
Question. Lowering in magnitude of water potential due to addition of a solute is called :-
(a) Solute potential (ψs)
(b) Pressure potential (ψp)
(c) Turgor pressure
(d) Suction pressure
Question. Enzymes which are slightly similar in molecular structure but can perform identical activity are called :
(a) Isoenzymes 
(b) Holoenzymes
(c) Apoenzymes 
(d) Coenzymes
Question. Liberation of oxygen when green cells kept in water are exposed to sunlight in presence of suitable electron acceptor is called
(a) Pasteur Effect
(b) Emerson's enhancement effect
(c) Blackman's reaction
(d) Hill's reaction
Question. Chemiosmotic theory of ATP synthesis in the chloroplast and mitochondria is based on:
(a) Proton gradient
(b) Accumulation of K+ ions
(c) Accumulation of Na+ ions
(d) Membrane potential
Question. Read the given statements.
(i) Mg2+ is an activator for ribulose bisphosphate carboxylase-oxygenase.
(ii) Micronutrients are required in large quantities.
(iii) Zn2+ is an activator of alcohol dehydrogenase
(iv) Phosphorous is a central metal ion of the chlorophyll molecule.
Identify the true and false statements.
(a) (i)-True (ii)-False (iii)-False (iv)-True
(b) (i)-True (ii)-True (iii)-False (iv)-False
(c) (i)-True (ii)-False (iii)-True (iv)-False
(d) (i)-True (ii)-False (iii)-True (iv)-True
Question. Among the statements given below, which statement(s) is/are correct regarding the relationship between enzyme and substrate?
I. At a certain concentration of substrate, an enzyme reaches its maximum rate of reaction.
II. Increasing the substrate concentration to a higher level can overcome the effects of a competitive inhibitor.
III. Despite of high substrate concentration a non- competitive inhibitor can affect the enzyme activity.
IV. The higher the concentration of substrate the faster an enzyme can catalyse a reaction.
Options :
(a) I and II only 
(b) II and IV only
(c) I, II and III only 
(d) III and IV only
Question. Three important growth promotor hormones in plants are
(a) Auxins, gibberellins and ethylene
(b) Auxins, gibberellins and cytokinins
(c) Ethylene, abscisic acid and cytokinins
(d) Gibberellins, cytokinins and abscisic acid
Question. Which of the following is not an action of ethylene?
(a) Induces leaf abscission
(b) Inhibits root hair growth – decreasing the efficiency of water and mineral absorption
(c) Induces the growth of adventitious roots during flooding
(d) Stimulates epinasty – leaf petiole grows out, leaf hangs down and curls into itself
Question. The PGR used to initiate flowering and for synchronizing fruit-set in pineapples is:
(a) Abscisic acid
(b) Cytokinin
(c) Auxin
(d) Ethylene
Question . Auxin is synthesised in the apical meristems from amino acid
(a) Isoleucine
(b) Methionine
(c) Niacin
(d) Tryptophan
Question. Gibberellin was isolated in pure form by
(a) Brian et al
(b) Went
(c) Yabuta
(d) Kurosava
Question. The aquatic plant Limnophila has leaves of more than one shape. The condition is described as
(a) polyphylly
(b) amphiphyly
(c) heterophylly
(d) biphylly
Question. Abscisic acid is known as the stress hormone because it
(a) breaks seed dormancy
(b) induces flowering
(c) promotes leaf fall
(d) promotes closure of stomata
Question. Cytokinins are in nature
(a) Acidic
(b) Neutral
(c) Basic
(d) All of these
Question. Name the plant hormone which hastens ripening of fruits and colour development is citrus, apple, mango, banana, etc.
(a) Gibberellin
(b) Ethylene
(c) ABA
(d) IAA
Question. Both red and blue light are involved in?
(a) stem elongation.
(b) photoperiodism.
(c) positive phototropism.
(d) tracking seasons.
Question. At the root apex the cells of the meristematic region are not characterized by:-
(a) Being rich in protoplasm
(b) Abundant plasmodesmatal connections
(c) A cell wall that is primary in nature
(d) Having small inconspicuous nuclei
Question. When dark period of short day plants is interrupted by a brief exposure to light the plant will-
(a) flower immediately
(b) give more flowers
(c) not flower at all
(d) change into long day plant
Question. Which can replace the requirement of vernalisation
(a) Gibberellins
(b) Auxin
(c) Cytokinin
(d) Ethylene
Question. Parthenocarpy in grapes is induced by:-
(a) cytokinins
(b) gibberellins
(c) topoisomerases
(d) primase
Question. Bud dormancy is induced by:-
(a) ABA
(b) ethylene
(c) IAA
(d) gibberellic acid.
Question. The period of growth is generally divided into
(a) Meristematic phase
(b) Elongation phase
(c) Maturation phase
(d) All of these phases
Which one of the following acids is a derivative of carotenoids?
(a) Indole-butyric acid
(b) Indole-3-acetic acid
(c) Gibberellic acid
(d) Abscisic acid
Question. In the process of apical dominance, lateral buds are unable to grow in the presence of apical bud. This is due to:-
(a) less amount of cytokinins in lateral buds
(b) more amount of cytokinins in lateral buds
(c) less amount of auxin in lateral buds
(d) more amount of auxin in lateral buds
Question. The Avena curvature is used for bioassay of
(a) GA(c)
(b) IAA
(c) Ethylene
(d) ABA
Question. Primary and secondary growth are inhibited by:
(a) Auxins
(b) Gibberellins
(c) Abscisic acid
(d) Cytokinins
Question. One of the synthetic auxin is
(a) NAA
(b) IAA
(c) GA
(d) IBA
Question. Foolish seedling" disease of rice led to the discovery of:-
(a) GA
(b) ABA
(c) 2,4-D
(d) IAA
Question. What causes a green plant exposed to the light on only one side, to bend toward the source of light as it grows?
(a) Green plants need light to perform photosynthesis
(b) Green plants seek light because they are phototropic
(c) Light stimulates plant cells on the lighted side to grow faster
(d) Auxin accumulates on the shaded side, stimulating greater cell elongation there
Question. During seed germination its stored food is mobilised by.
(a) ethylene
(b) cytokinin
(c) ABA
(d) gibberellin
Question. …………….. is a term that includes all changes that an organism goes through during its life cycle from germination of the seed to senescence.
Question. In arithmetic growth, following ………….. cell division, only one ………….. continues to divide while the other differentiates and matures.
Question. …………… is highly effective in fruit ripening.
Question. Plant growth is ……………. because plants retain die capacity for unlimited growth throughout their life.
Question. Wherein new cells are always being added to the plant body by the activity of the meristem is called the close form of growth.
Question. PGRs could be indole compounds (indole-3-acetic acid, IAA); adenine derivatives (N6- furfurylamino purine, kinetin), derivatives of carotenoids and fatty acids (abscisic acid, ABA); terpenes (gibberellic acid, GA3) or gases (ethylene, C2H4)
Question. Ethylene also promotes root growth and root hair formation, thus helping the plants to increase their absorption surface.
Question. Biennials are monocarpic plants that normally flower and die in the second season.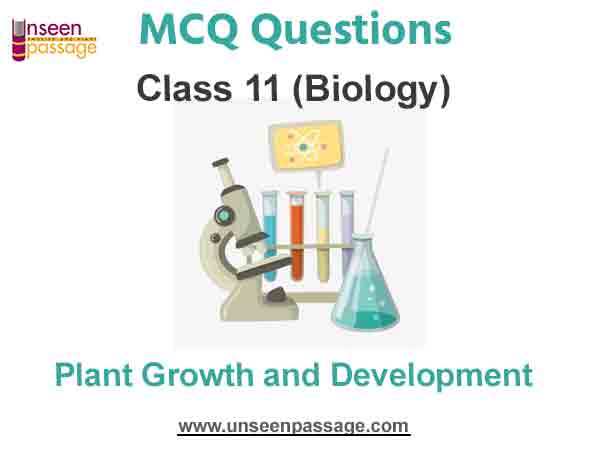 We hope you liked the above Plant Growth and Development MCQ Class 11 Biology. In case you have any questions please put them in the comments box below and our teachers will provide you a response.